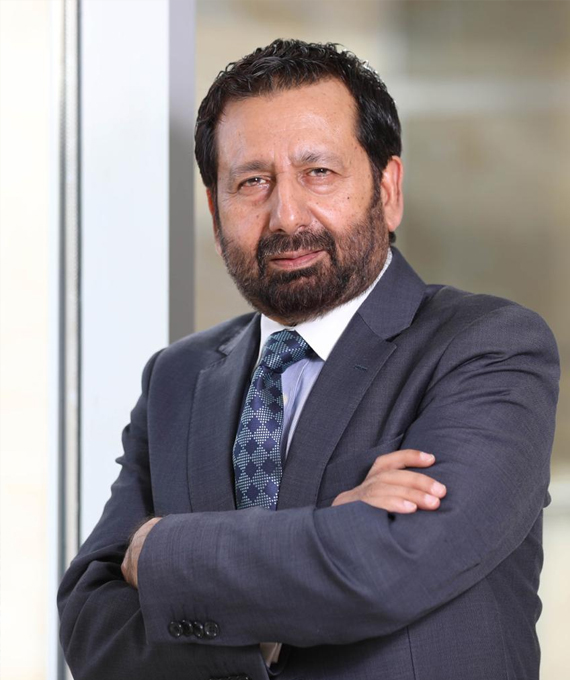 Dr. Raza Siddiqui
Group CEO Arabian Healthcare Group and Executive Director RAK Hospital
Dr. Raza Siddiqui
BOARD MEMBERSHIPS
First Indian Board Member – RAK Chamber of Commerce and Industry
Board Member – RAK Hospital
Board Member – Arabian Healthcare Group
Board Member – RAK Medical and Health Sciences University
Advisory Board Member – CEO Club International, Dubai
Advisory Board Member – Arab Health 2020
With a will to break new ground, Dr. Raza Siddiqui's fresh outlook and unconventional approach to the healthcare sector is quite evident in his many high-profile achievements, both in India and the UAE. The Group CEO of Arabian Healthcare Group and Executive Director of RAK Hospital has been at the helm of several high-profile novel projects and turned them around into success stories.
From Apollo Hospitals in India to RAK Hospital in the UAE, Dr. Siddiqui's decades of experience and knowledge of medical sector reflects his passion and vision. During his tenure at Indraprastha Apollo Hospital, New Delhi, the flagship hospital of India's Apollo Hospitals Group, he successfully launched innovative concepts that brought premium healthcare to public's doorstep, promoted corporate health and wellness packages, while effectively positioning the hospital as the ultimate and most advanced in healthcare locally and internationally.
Moving to the UAE in the late 90s, he began working as Director Operations for Belhoul Specialty Hospital, Dubai, on the behalf of the Apollo Hospitals Group, India, for Dr. Juma Belhoul, the Former Director General of Health in the Government of Dubai. Under Dr. Siddiqui's charismatic management, the hospital was not only developed, conceptualized and launched but also embarked upon the journey to prestigious Joint Commission International (JCI) accreditation. Dr. Siddiqui was further entrusted with the responsibility of promoting India as the preferred medical tourism destination – a subject close to his heart. As a result of his professional and creative approach, he managed to arrange for treatment of hundreds of patients from the UAE and the region to India – just within a year.
Being the Group CEO of Arabian Healthcare Group in a competitive UAE healthcare sector has further highlighted Dr. Siddiqui's innovative approach towards the industry. When he began as the Executive Director of RAK Hospital in 2007, he was given the task of placing the newly-conceived institution on the UAE medical tourism map, while at the same time help to propel UAE as a pioneer in global medical tourism. To both ends, Dr. Siddiqui has been immensely successful, and under his trailblazing leadership, RAK Hospital has seen many firsts, not just in the institution, but in the entire country.
Medical tourism
Spotting the immense potential that the UAE offered in medical tourism, Dr. Siddiqui's farsightedness enabled him to take effective measures to channelize tourists into the country in general, and RAK Hospital in particular. His vision of blending premium healthcare with premium hospitality gave birth to a novel concept that not only meets the rising demands of today's shrinking medical world but also brings a breath of fresh air in a conventional system. Today, thanks to Dr Raza Siddiqui and his talented team, RAK Hospital stands tall among its UAE counterparts for innovation, prolific growth, clinical acumen, and technological edge. During the 10 years of the hospital, Dr. Siddiqui has facilitated several collaborations, converging a world-class team of doctors across various specialties, and bringing to the UAE doorstep expertise that has been instrumental in promoting medical tourism in the country. He is still playing an important role in promoting India as a Medical Tourism Destination for Tertiary care.
His endeavors include: tie up with the Apollo Hospital and Fortis Escorts Heart Institute (FEHI) to bring the best Interventional Cardiology and Cardiac Surgery; tie-up with Shalby Hospital's Dr Vikram Shah for high-end orthopedic treatment; the opening of RAK Diabetes Centre in Dubai that offers complete management of diabetes; the specially designed "NAZAR AYENI" initiative, a mobile eye-screening for Prevention Of Preventable Blindness  programme  (for the entire population of RAK) and; opening representative offices in Middle East and African countries for medical tourist facilitation. Moreover, RAK Hospital also boasts of the only Cardiac Catheterization Lab in the Northern region of the country and the launch of departments for Joint Replacement and Plastic Surgery. Under his leadership, the hospital imparts specialized care in cardiology, orthopedics, laparoscopy, stem cell therapy initiative, eye care, neurology, cosmetic surgery, and rehabilitation, among others. It was also the first hospital in the UAE to introduce gyroscope-based technology for more accurate alignment in knee replacement surgeries.
Awards
Having received the JCI accreditation early in its years (2007) and the Swiss Leading Hospitals (SLH) accreditation in 2008, RAK Hospital scaled to new heights constantly gaining recognition on various local and international platforms for quality and excellence. Besides being re-accredited thrice by JCI, other awards include: Health Magazine Award – Best Environment (2017), Healthcare Asia Award – Best Brand and Leadership (2016), Mohammed Bin Rashid Al Maktoum Business Excellence Award (2015), Best healing Environment Hospital in the Middle East (2012 & 2010), Best Healing Environment Hospital at the Hospital Build Awards, and the Highly Commended for Best External Design (2008), among others. RAK Hospital is also the winner of the Superbrand Award three years in a row from 2014 to 2016.
With Dr. Raza's efforts, RAK Hospital has carved a niche for itself and received several distinctions from across UAE and elsewhere.
As a healthcare professional and for his unstinted commitment to quality, innovation, and ideas, Dr. Raza has also been recognized at a number of platforms. He was recently conferred with two significant awards which include "Healthcare CEO of the Year" 2017 award from the CEO Club International and Healthcare Excellence CEO of the year from Indo UAE business forum.
Awards received recently:
International Business Achiever – CEO Forum Mumbai 2020
CEO of the Year – Global Healthcare & Medical Tourism Conclave – 2019
Top 30 Indian Executives in the Arab World 2018 – Rank 26 – 2019
World Medical Council Excellence Award – Hall of Fame – 2019
Most Influential CEO of the Year Award 2018 – CEO Clubs Network
Top 50 Indian Executives in the Arab World 2018 – Rank 30
Token of Appreciation by HH Sheikh Saud Bin Saqr Al Qasimi the Ruler of RAK and Member of
Supreme Council for serving as The Member of The Board of Directors in the RAK Chamber of
Commerce since 2013 onwards – 2018
Healthcare CEO of the Year – CEO Club International – 2017
Healthcare Excellence CEO of the year – India UAE Business Forum – 2017
Excellence in Healthcare – UAE India Economic Forum – 2017
Healthcare Business Mentor of the Year – Six Sigma Healthcare Award, Delhi India – 2017
Asia Health Award (2017)
The Middle East HealthCare Leadership Award (2017)